I dont know about you but I am a carb lover! Pasta, rice, bread… mmmm… who doesnt love carb?! I'm actively seeking carb substitution because too much carb is not very beach body friendly! Lets face it, it is so easy to chow down a big bowl of pasta and regret it later :p
Today I picked up this bag of organic edamame and mung bean fettuccine from Explore Asian. It is high in protein and fiber, and it is low in carb and sodium. It is certified gluten free, organic, non GMO and vegan!
Organic edamame and mung bean fettuccine
may not sound all that great but it is delicious!!! It taste just like string mozzarella cheese!!! You do not taste the edamame nor the mung bean. This delicious fettuccine has 24 gram of protein and 11 gram of fiber per serving. This fettuccine not only taste delicious, it is easy and fast to cook.
Today I decided to make guilt free pesto fettuccine with Basiltop Habanero pesto. It got some kick to it 😉
Ingredients:
Pesto (I used Basiltop)
OrganicEdamame and mung bean fettuccine
F
resh organic broccoli
Directions:
Boil the fettuccine
Stir fry the broccoli with pesto
add fettuccine in when its ready and mix it with stir fry broccoli. Additional pesto may required.
For the side, I made a delicious and refreshing salad. More fiber!
Ingredients:
2 organic purple carrots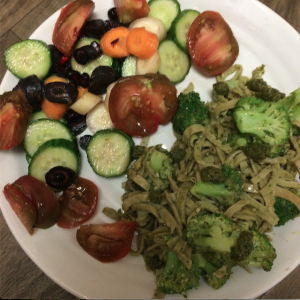 1 organic white carrot
1 organic orange carrot
1 organic tomato
2 organic Persian cucumber
1/2 of organic fresh pomegranate
1/2 organic orange
Olive Oil
Himalayan salt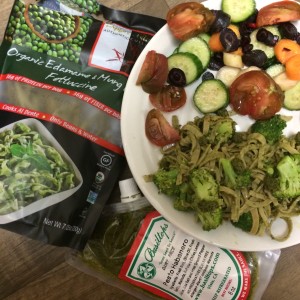 Directions:
slice the cucumber, carrots and tomato
Peel the pomegranate and added to rest
hand squeeze 1/2 orange onto the vegetables
add a splash of olive oil and pinch of himalayan salt
Mix everything in a mixing bowl
Happy Friday!