Just when you thought you had to give up pasta… you can now enjoy organic, vegan and gluten-free pasta that is loaded with protein, good carbohydrate, and fiber!
I don't know about you but I can polish a giant bowl of pasta like nobody's business. Preferably with pesto or spicy marinara sauce and top it off with some fresh cheese. Yum! And just about an hour later, I start to regret my decision. Sounds familiar?
Traditional white pasta is high in carbohydrate and low in protein and fiber. Which leads us to overeat because refined carbs are less satisfying than "good carbs". The body absorbs processed grains and simple sugar relatively quickly, which lead to erratic spikes and dips in blood sugar. And about an hour or two after eating hunger returns…
What you probably didn't know is that there is some new healthy, reinvented pasta out on the market that tastes delicious and provides the extra boost of protein and fiber. Thanks to ingredients like lentil, edamame, chickpea, black bean  – you can now enjoy guilt-free pasta!
Today, we would like to introduce our new favorite pasta: Tolerant!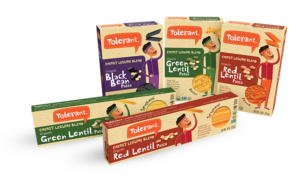 Who is Tolerant?
TOLERANT is a company trying to make an impact for those who seek healthier lifestyles, have food intolerances or dietary restrictions through naturally powerful, great tasting, legume-based foods. Tolerant believe that gluten-free products should taste great and real ingredient food should be accessible to everyone.
Tolerant pasta is certified organic, gluten-free, non-GMO verified, vegan and Kosher! This month, Tolerant is launching a new chickpea pasta to its product line.
What is chickpea pasta?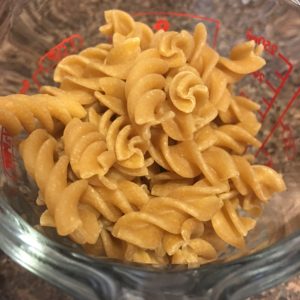 Looks like pasta, feels like pasta, tastes like pasta, but unlike pasta, it is made from chickpeas.
What are legumes?
Legumes come in various forms such as beans, lentils, peas, and garbanzos. They are a seed, pod or another edible part of a leguminous plant used as food. Legumes are naturally low in sugar, high in fiber and protein as well as a good source of healthy carbohydrates.
Fun fact: about 30% of legume's calories are from protein.
What Tolerant have got to offer?
Plant-based protein pasta that is available in black beans, red lentils, green lentils, and chickpeas. All Tolerant pasta is certified organic, gluten-free, non-GMO verified, Kosher and certified vegan!
How does Tolerant chickpea pasta compare to other brands?
Certified organic, vegan and gluten-free
Low in sodium
Low in total fat
Higher in calcium and vitamin C
Cleaner ingredient list
No added protein
| | | | |
| --- | --- | --- | --- |
| |   |   | |
| Brand | Tolerant | Banza | Explore Cuisine |
| Certified organic | | | |
| Certified vegan | | | |
| Vegan | | | |
| Gluten free | | | |
| Protein | 14g/ 3 oz | 14g/ 2 oz | 11g/2 oz |
| Calories | 281/3oz | 190/ 2 oz | 200/ 2oz |
| Total Fat | 3g/ 3 oz | 3.5g/ 2 oz | 2.5g/ 2 oz |
| Sodium | 13mg/ 3oz | 60 mg/ 2 oz | 30mg/ 2oz |
| Total Carb | 60mg/ 3oz | 32 mg/2 oz | 35 g/ 2oz |
| Calcium | 10%/3 oz | 4%/ 2 oz | 4%/ 2oz |
| Iron | 0% | 30%/ 2 oz | 15%/ 2 oz |
| Dietary fiber | 10g/ 3 oz | 8g/ 2oz | 5g/ 2oz |
| Vitamin C | 4%/ 3oz | 0% | 0% |
| Ingredients | Organic chickpea flour, organic white rice flour | Chickpea, tapicoa, pea protein, xanthan gum | Organic chickpea flour, Organic brown rice flour, Organic tapicoa starch, Organic pea protein |
What we love about Tolerant pasta?
Besides the fancy certifications that Tolerant pasta have – we love that Tolerant's chickpea pasta doesn't contain added pea protein! We love the texture and the taste of tolerant pasta. Taste nothing like chickpea or "beany" and taste very close to traditional pasta. The texture is not mushy or too "soft" like you think it would and it has very similar texture as your whole wheat pasta.
The bottom line is, chickpea pasta is tasty, satisfying and fulfilling!
To learn how much protein you should eat daily, take the protein intake calculator!
Check out our white truffle carrot mac and cheese made with chickpea pasta!
Please note: Reviews are written based on my personal experiences and preference.
Disclaimer: Please note that some of the links above are affiliate links and I will earn a commission if you purchase through those links. This helps support the blog and allows me to continue to make free content. I only recommend products based on my own user experience. Thank you for your support!