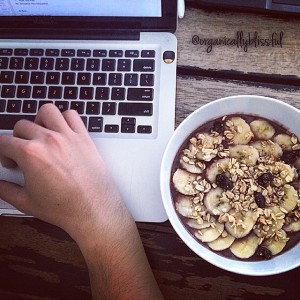 Making an Acai bowl is a lot easier than you think! If I can make it, you can make it.  Acai bowl is not only pretty to look at but its amazing for your body too. It contains superfood that is loaded with antioxidant! The first time I tried to google homemade Acai Bowl, there were all kind of directions and blending involved so I said forget it, I will just buy it. But making it yourself is really simple and so much more economical than purchasing one.
Ingredients: 
Amazon Planet (Organic certified Acai Puree)
2 Organic Banana
Acai juice (I used organic certified original Sambazon)
Granola ( I used gluten-free raisin Granola)
Direction:
Blend Acai Puree, 1 banana and a splash of Acai juice in a blender. The idea is to make the texture thicker than a smoothie.
Once it's all blended, top it with sliced banana and granola!
Yep, it's that easy!!!
For other ACAI combination, click here.
[amazon_link asins='B0764DBGD2,B075456C52,B077Y1BZFF,B076DY5JKB,B075W5Y1BS,B01MS1KGW3,B01N3D38NG,B0733S97T2,B076DDHNFY' template='ProductCarousel' store='US-1′ marketplace='US' link_id='eba3fdb4-f3e6-11e7-a722-d954e19208da']