Its all about the beet 🙂
Beets have many great health benefits. It may help lower blood pressure, boost stamina (source of energy), fight inflammation, contains anti-cancer property, help support mental health, support detoxification and much more. It is rich in folate, manganese, potassium, copper etc. High in fiber and loaded with antioxidant.
For those who are wondering how much to drink to see the effect of lowering blood pressure? According to Dr. Oz, one to two cups juice a day has been shown to have a significant effect on lowering blood pressure.
One way I enjoy beets is to put it in pizza!

Ingredients:
1 Organic beetroot
Beet greens
1 pita bread
tomato sauce or pasta sauce
Cheese (optional and your choice)
Directions:
1. Preheat the oven to 350F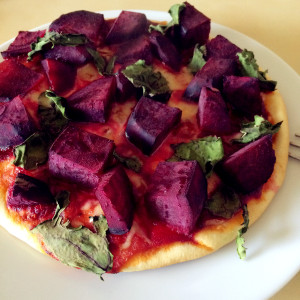 2. cube the beets and slice the beets green
3. On pita bread, spread your tomato sauce and cheese
4. top the beets and the green
5. Bake for 15 minutes
What I love about this is recipe is when you bake the beets, the purple pigment in the beet will come out! Your cheese or the surrounding area will be this beautiful blend purple color. A little too beautiful to eat?