Happy Chinese New Year!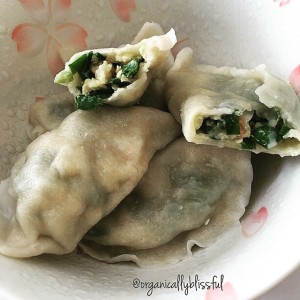 On Chinese New Year, dumpling or known as jiao zi is a MUST! It is our tradition that you must eat dumplings on this holiday because dumplings symbolize golden ingot and your life would be fulfilled in the new and previous year (because of the round shape). Either way, dumplings are simply delicious! Especially when it is homemade.
Today, I got to make some dumplings with my grandma 🙂 Learning how to make it from the best chef!
Ingredients: 
Dumpling wrapper (you can make it from scratch if you would like)
Chive
Shrimps (Fresh or Frozen)
Scallop
4-6 organic eggs
salt
If you are not into seafood, you can make traditional dumplings using ground pork and cabbage.
Directions:
Depends on how many dumplings you are planning on making, scramble 4-6 eggs
Based on personal preference, chop shrimp and scallop into small pieces
Slice chives into small pieces.
Add salt based on personal preference.
In a bowl, mix all ingredients together.
Follow dumpling wrapper instruction and place the filling into dumpling wrapper.
[amazon_link asins='1624140599,B00EIQWKDC,B01LYKIJ6Y,B01N95MRZF,B000ARPJRM,B01485CVHC,1101906634,1580089755′ template='ProductCarousel' store='US-1′ marketplace='US' link_id='aa43bdad-f30d-11e7-8343-616248558927′]
Cheers!