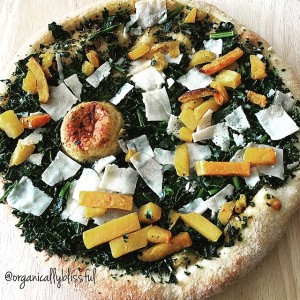 Kale and butternut squash pizza!!! yummmm! This is not your traditional tomato based or pesto based pizza. It is tomato-less and the perfect fall pizza to enjoy with friends and family.
Unlike other pizza, this pizza has a unique texture. The kale will give this pizza a crispy texture to it!
Ingredients:
Pizza dough
Organic kale
1/3 cup of organic butternut squash
Parmesan (optional)
Dough ingredients:
3 1/2 Cups of whole wheat flour
1 Teaspoon sugar
1 Envelope of instant dry yeast
2 Teaspoons of salt
3 Tablespoon olive oil
1 1/2 Cup of warm water
Dough Instructions:
In a bowl, mix all ingredients together. Make sure it is even and well mixed. Then wrap the bowl with a clean towel or plastic wrap and let it rise for about an hour.
Pizza Instructions:
Roll out the pizza dough
Chop the kale into smaller pieces and spread on top of the dough
Slice the butter squash and place it on top of the kale
Place some parmesans on top
Place in oven at 425 degrees for about 25 minutes