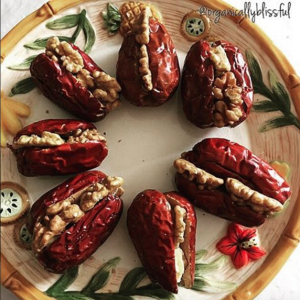 One of my easy and fun snacks is stuffed dates! Great snack and party appetizer that is easy to make and tasty. Very simple ingredients and very quick to put together.Sweet and nutty is how I would describe the taste of it.
Dates are rich in dietary fiber, antioxidant, and essential minerals potassium and magnesium. Some of the health benefits of eating dates are bone strengthening, support intestinal disorder, laxative food, great for people who are suffering from anemia, reduction in allergy, cardio support etc..
To make this easy and tasty treat, all you need is dates and walnut.
If you use dates that have a pit, remove the pit and then stuff the walnut in. If you use pitted dates, you can slice the date the long way with a knife and half way and then stuff the dates with walnut. Yes, it is that simple!
[amazon_link asins='B00H7278MC,B006K3VO5Q,B00DOOFI3I,B00UK8NGC6,B00LWZYFJO,B0157AKA5C,B004L21MV4,B000N1ZB6Y,B00W5YYKAA,B000LKVT90′ template='ProductCarousel' store='US-1′ marketplace='US' link_id='f25397c7-f34f-11e7-aea0-c17eb3b169a1′]