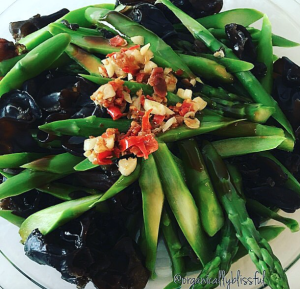 Wood-ear mushroom with asparagus with spicy garlic sauce 🌶
I'm not a huge fan of asparagus because of the distinctive taste. However, there is something special about this dish and it tastes amazing! The spicy garlic sauce covers the distinguished taste that asparagus has. Give this dish try even if you aren't an asparagus fan.
The spicy garlic sauce, you can find this in your local grocery store in the international aisle.
Ingredients:
Wood ear mushroom
Organic asparagus
Spicy garlic sauce
Soy sauce
Directions:
Boil a pot of water. Once boiled, add asparagus and wood ear mushroom in. Boil it for about 1 minutes and then put it on a plate. (don't overcook the asparagus )
Add a splash of soy sauce to it
Add spicy garlic
Mix it well and then it's ready for be served!
Asparagus is loaded with nutrients. It's a very good source of fiber, vitamin A, C, E, and K, as well as chromium. Asparagus helps fight cancer, packed with antioxidants, brain booster, and diuretic!
Wood ear mushroom is not your typical white or brown mushroom. It is low in calories, high in protein, iron and fiber vegetable. It is great for immune support, beneficial for blood, skin… It is often used with stir fries and soup.
[amazon_link asins='B00XZV650K,B0009OA17Y,B00KHKBD68,B071WX354Y,B0002NVL8K,B00H57XXAU,B007RAMC8O' template='ProductCarousel' store='US-1′ marketplace='US' link_id='70fada05-f33a-11e7-bb23-f3c41bde5c74′]