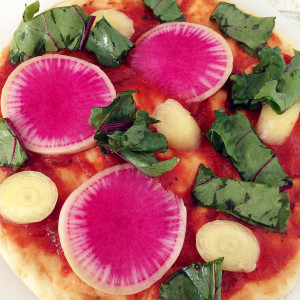 My partner and I wanted to make pizza today but someone forgot the cheese… Not mentioning any name here 😉 But that's okay. It didn't stop us from making a vegan pizza!
Making an individual size pizza is our favorite thing to do because of is great for portion control, top it with whatever we want to base on personal preference and the best part is it super simper to make.
Our favorite way to decide topping is whatever vegetable is in our fridge at the moment.

Ingredients:
Yield: 2 pizza
Prep Time: 5 Minutes
Cook Time: 15 Minute
2 Pita bread (gluten-free)
1 Organic watermelon radish
1 Organic white carrot
A handful of beet greens
Pizza sauce
Directions:
1. Slice the watermelon radish and white
carrots
2. Spread tomato sauce on the pita bread
3. Spread the radish, carrot, and greens on top
4. Bake it at 350F for 15-20 minutes
Radish is typically mild, however, you do not get the mild taste of this pizza from baking!
Whats your favorite pizza toppings?