Do you compost your organic waste? If so, you will love Biobag because it is certified compostable! If you don't – no big deal, it's never too late to start and ensure a better environment for the future generations! Not to mention, increase your karma points!
Why should you consider composting?
Reduce landfill waste
Reduction in overall greenhouse emissions to help decrease global warming
Improves overall air quality, rather than the usual method of burning waste
Save you money by reducing your soil purchases and associated costs with local disposal
Enriches the soil! Using compost adds essential nutrients, improves soil structure, which allows better root growth and increases moisture and nutrient retention.
What you should compost:
Leaves, grass clippings, and weeds
Food waste, such as coffee grounds, tea bags, eggshells, bread…
Fruit and vegetable scrap
To learn what you can and can't compost, click here.
Why use BioBag?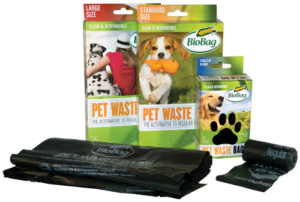 Biobag is certified compostable. Unlike regular plastic bags, BioBags are made from a resin derived from plants, vegetable oils, and compostable polymers and can be consumed by micro-organisms that live in our soil.
BioBag offers to produce bags, pet waste bags, garden waste bags, and food scrap bags. Even though pet waste is not readily accepted at most compost facilities, there are now a number of communities and parks successfully composting pet waste and are using BioBags as the method of the collection!
[amazon_link asins='B002FC6JZG,B001EQ4OWO,B01AHGD1S4,B00INC4GQQ,B00D7M7F42′ template='ProductCarousel' store='US-1′ marketplace='US' link_id='2f61f1c6-ed94-11e7-b02b-6124b95f4808′]
To find a compost facility in your community, visit www.findacomposter.com.
We are giving away 3 boxes of pet waste bags to one lucky winner. Enter below for a chance to win!
Ops, you have missed our giveaway!