OrganicallyBlissful is running an exclusive Valentine's Day giveaway to one of 0ur fans. All chocolate! Chocolate is supposed to symbolize affection, attraction, deep love, luxury, passion, and sensuality.
Have you ever wondered why do we give chocolate to our valentine or why does our valentine give us chocolate?
Chocolate comes from "Theobroma cacao" tree, which translates as "the food of the Gods" since the time of Aztec Indian. People see this message and realize that if it's good enough for the Gods, it must be good for their girlfriend/boyfriend.
Scientist linked the chemical phenylethylamine in chocolate to the feeling of excitement, attraction, and even pleasure. Maybe that's why we give our loved ones chocolate on Valentines Day, but you will have to decide that one for yourself.
Fun Facts about Valentine's Day:
On Valentine's Day every year, there are at least 36 million heart-shaped boxes of chocolates sold.
On average, men spend the double amount of money on Valentine's Day gifts than women.
There are approximately 50 million roses given on Valentine's Day around the world.
Valentine's Day is the second most popular day of the year for sending cards.
There are approximately 1 billion Valentine's Day cards are exchanged every year in the U.S. alone.
Approximately 27% of those who buy flowers on Valentine's Day are women. The other 73% are men.
Based on the retail statistic, about 3% of pet owners will give Valentine's gift to their pets.
Enough of chocolate and valentines day talk, are you a chocolate fan? If you are, then you are in luck! You will love our giveaway.
We are giving away: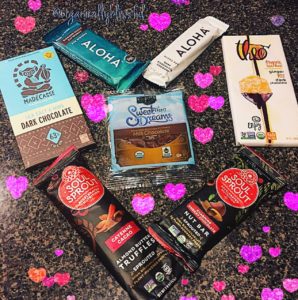 1 Milk chocolate on Whole Grain Rice Cake from Sweet Dreams
1 Charming Cherry Chocolate from Soul Sprout
1 Cayenne Cacao from Soul Sprout
1 Ginger Dark Chocolate from Theo
1 Sea Salt and Nibs Dark Chocolate from Madecasse
1 Chocolate Fudge Brownie Protein Bar from Aloha
1 Dark Chocolate Coconut from Aloha
Ops you missed our giveaway!