We use personal care items every day to maintain our daily hygiene! For something that it is necessary and essential part of our daily life, it is important that we to make sure what we use is all natural and organic! Today I would like to share my favorite organic personal care item from Dr. Bronner! What I love about Dr. Bronner is that not only are the products USDA organic certified, they are Fair Trade across the world to that ensure fairness and just treatment of farmers and workers.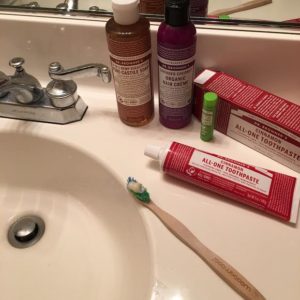 What do you need to know about Dr. Bronner brand?
Dr. Bronner is a family business committed to honoring the vision of founder Dr. E.H. Bronner by making socially and environmentally responsible products of the highest quality, and by dedicating their profits to help a better world!
Available in peppermint, cinnamon, and anise flavors!
Much commercial toothpaste contains chemicals that could be detrimental to our health. These chemical have been linked to possible oral and breast cancer and as well as mouth irritation and environmental pollution.
Dr. Bonner's toothpaste is made up of 70% organic ingredients including Fair Trade and organic coconut flour and coconut oil which aid as a mild abrasive.
What I love about Dr. Bonner's Toothpaste:
✅70% organic
✅Low foaming formula
✅Fluoride-free
✅Vegan and cruelty-free
✅No artificial color and flavor
✅Preservative-free
✅Sweetener-free
✅Vegan
✅Non-GMO
✅Made in 100% recyclable box and tube
I recommend that you try a variety pack to determine which one is your favorite!
Second, I would like to tell you about Dr. Bonner's lotion!
Skin is the largest organ in our integumentary system. Everything that we put onto our skin gets absorbed and processed by our body. The majority of skin care products that we find on the market contain ingredients from vague sources and usually unpronounceable! Since we can't pronounce the word,  why should we allow our skin to absorb it! I don't know about you, but I want my largest organ to absorb real ingredients! Dr. Bronner's lotion will nourish and hydrate your skin with good ingredients including organic jojoba, organic coconut oil, organic hemp oil and avocado oil! Many of the amazing oils will leave your skin hydrated and soft! Great for moisturizing and protects dry skin without the greasy feeling!
What I love about Dr. Bonner's lotion:
✅USDA Organic certified
✅Certified fair trade ingredients
✅Vegan
✅No animal tested
✅Contains essential oil
✅Non-GMO verified
✅No synthetic ingredients
✅No preservative
My personal favorite scent is the lavender 😉
Available in patchouli lime:
Available in peppermint:
And also available in orange lavender.
What do we use most in our daily life in the house or the kitchen? Cleaners! A majority of all-purpose cleaner contains chemical, synthetics, and potential toxins! Not only do they get onto our body, they also leave residue behind and affect our environment. Dr. Bonner's Sal Suds liquid cleaner is a concentrated hard surface all purpose cleaner. It is made of plant-based surfactants and natural fir needle and spruce essential oils, without any synthetic dyes, fragrances or preservative. This cleaner is gentle on the skin and its perfect for people who have sensitive skin!
What I love about Dr. Bonner Biodegradable cleaner:
✅100% cruelty-free
✅Natural
✅Biodegradable
✅Dye-free
✅Fragrances free
✅Preservative-free
✅Certified fair trade ingredients
Looking for a soap that pretty much clean any task?! Check out Castile liquid soap! This soap is concentrated, biodegradable, versatile and effective that is great for face, body, hair, food, dishes, laundry, mopping, pets, anything! Dr. Bronner's soap is all natural and contains no synthetic detergents or preservatives. What I love about this soap is it will leave you smooth and moisturized skin after usage, as the soap contains essential oil! Great for traveling and camping. Small size travel essential that does it all! My personal all-time favorite is lavender scent!
What I love about Castile liquid soap:
✅Certified organic
✅Certified vegan
✅Natural
✅100% Recycled bottle
✅Certified fair trade ingredients
✅No synthetic preservative
Available in lavender (my favorite):
Available unscented (great for people with sensitive skin or for baby):
Available with Tea Tree:
And available in orange:
And lastly, I would like to introduce Dr. Bronner's organic lip balm!
Take care and protect your lips – it's important! Especially during cold, windy or dry weather condition. We want to protect our lips from being chapped and dry. Who doesn't want to have kissable lips all the time – year round?! Why is it important to use organic lip balm? Because everything that touches our lips goes into our body! Dr. Bronner's organic lip balm is made with organic beeswax, organic jojoba, avocado and hemp oil! This will keep those kissable lips moisturized and healed 😉 With the finest essential oil being added, it smells amazing! Ditch those artificial and chemically made lip care products.
What I love about Dr. Bronner Organic lip balm:
✅USDA organic certified
✅Vegan
✅Non-GMO verified
✅Certified fair trade ingredients
✅Contains essential oil
✅No artificial coloring
✅No artificial fragrance
Recommend that you start out with a variety pack to figure out your favorite scent:
Share your experience with Dr. Bonner's product with us.