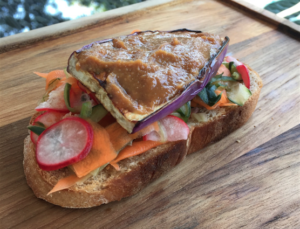 A sandwich is one popular dish that people bring and eat for lunch. It is easy to make and convenient to eat at school or work.
Sometimes when you on a routine and is having the same sandwich over and over again because that's what you know and have, it can get very old and boring. I don't know about you but I always look forward to eating something good and tasty. Life is too short to not enjoy what you eat.
Today I would like to share an Asian infused sandwich that is inspired by Japan and Vietnam flavor profile. A thin spread of miso pastes on sourdough bread with juicy grilled eggplant on sour pickles!
Ingredients: 
1/2 Organic eggplant
1- 1 1/2 tablespoon Miso paste
2-3 tsp of water
Sourdough bread
Pickles:
4-5 organic radishes (thinly sliced)

1/3 of an organic carrot, shredded with a vegetable peeler 

1/3 of an organic cucumber, deseeded and shredded

About 1/3 cup white vinegar

1 TBSP sugar

1/2 TBSP Himalayan salt

1 small lime
Directions:
In a mixing bowl, sprinkle salt on the radishes, cucumber, and carrots to extract excess moisture from the vegetables. Leave this on the side. 

Slice the eggplant 1/2 inches thick and grill it. 

In a small bowl, mix the miso paste and water to thin out the paste. Consistency depends on individuals. 

Check on the mixed vegetable bowl, once you notice there is water in the bowl, give the veggies a good rinse and squeeze out extra moisture

In the bowl of veggies, pour in vinegar, sugar, and lime. Give them a good toss and there have your pickled vegetables.

To assemble your sandwich, place the pickles on top of the toast then add your grilled eggplants. And then spread a thin layer of miso paste on your eggplant!
Recipe shared and contributed by Big On Food.