Fall is here! While fall means beautiful foliage and cozy sweaters, the best part about the chilly season may have to be the abundance of delicious pumpkin-flavored products. Here are some organic and natural pumpkin products that you and your pet need to try this fall:
Simply Beyond: Pumpkin Spice Spray

Source: amazon

An oil spray that is infused with pumpkin spice. A simple spray will turn whatever you are eating into pumpkin spice flavor.

Food Should Taste Good Harvest Pumpkin Tortilla Chips

Source: foodshouldtastegood

This product is certified gluten-free, certified kosher, no artificial colors, flavors or preservatives, and no msg.

Nature's Bakery Pumpkin Spice Stone Ground Whole Wheat Fig Bar, Limited Edition

Source: figbar

Fig and pumpkin spice?! I don't know how I feel about this…

Silk Almond Creamer Pumpkin Spice

Source: silk

Can't forget the vegan and lactose intolerance.

Pasta's Mama Pumpkin Spice Fettuccine

source: pasta's mama

Made with all-natural pumpkin, infused with cinnamon, nutmeg, ginger, and cloves. Sounds pretty tasty, doesn't it?

Archer Farm Pumpkin Spice Almond

Source: archer farm

yum or yuck?

Peanut Butter Co's Pumpkin Spice Peanut Butter

Source: peanut butter co

We're already huge fans of PB & Co.'s tasty nut butter blends, so this limited edition batch is a seasonal no-brainer;

365 Pumpkin Spice Yogurt

Source: 365

Good news, healthy eaters: You can get your pumpkin spice fix in the morning—along with a big shot of protein. It's low fat too!

G.H. Cretors Pumpkin Spice Caramel Corn

Source: G.H. Cretors

Might pumpkin caramel be the new salted caramel?

Nature's Promise Pumpkin Chicken Sausage


Source: nature's promise

I know you cant live without pumpkin spice in the fall and that's why they have pumpkin spice chicken sausage.

Maple Craft- Pumpkin Spice maple syrup

Source: Maple craft

Yum or yuck?

Fruit Nibblers Pumpkin spice for your dog!

Source: fruitnibblers

You can now enjoy pumpkin spice with your dog!

Crop Harvest Earth – Pumpkin Spice Vodka 

Source: crop harvest earth

Ready to cue up the fall spirits as summer winds down?

Nature's Plus- Pumpkin seed protein powder

Source: naturesplus

More pumpkin, please…

North Coast- Pumpkin Spice applesauce

Source: Northcoast

You can now have applesauce and pumpkin spice! Bom

Organic Crush- pumpkin spice lip balm


Source: etsy

I hope he/she likes pumpkin spice!

Sprouts Pumpkin Spice Kombucha

Source: sprouts

Cant forget that kombucha!

Weruva Cats in the Kitchen Pumpkin Jack Splash Tuna in Pumpkin Soup Recipe

Source: chewy.com

Pumpkin for your cat?

Sprouts- Kale chips

Source: sprouts

#eatmorekale

The California Fruit Wine Co- Pumpkin Spice

Source: thecaliforniafruitwine

Slow-slipping this baby while indulging in a slice of warm pumpkin pie is really what fall food dreams are made of, right?

Frontera Chipotle Pumpkin Salsa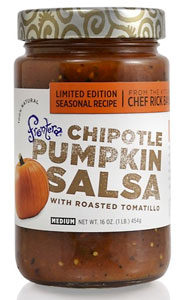 Yum or yuck?
Happy Fall!