Fall is my favorite season because of what nature provides – the wonderful varieties of pumpkins, gourds, and garden plants lend themselves to fall arrangements, centerpieces, and home décor. Can you blame me, who can resist the beauties of the Fall season? The vibrant autumn leaves that crunch under your feet. Pumpkin and apple picking. Fresh cold pressed apple cider, the cider donuts, and pies. A bit of chill in the air, so you need to put on your favorite sweater or jacket. Its time for Fall Festivals, Back to School, Halloween, and Thanksgiving. So much fun happens during the Fall!
That's why I know you're going to want some terrific craft idea to celebrate Fall and family bonding activity.  One of the things that I noticed right away about Fall crafts is the vibrant colors! If you are looking to add a bit of a "pop" or color to your front porch to welcome your guests or unique table centerpiece, this is a great way to show your personality. Pumpkin is a perfect thing to decorate for the fall – no matter if it's a usual dinner, a Halloween party or Thanksgiving table.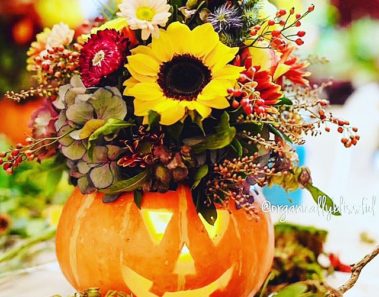 Here I have a beautiful decoration idea for your fall season that you can DIY, which would help show off your personal style and creativity for the fall.
Pumpkin carving: Cut the pumpkin top and scoop out the seeds and fleshy center.
Place fresh flower into the oasis and then into a bell cup.
Place the flowers then into the pumpkin.
Place electric candlelight near the flower placeholder (optional).
Materials you will need:
Pumpkin carving kit
Pumpkin
Fresh flowers (check out what is in season)
Electric candlelight (optional)
Bell cups
Oasis flower foam
Note: If you don't have bell cups and oasis flower foam, you can use a can that can hold some water and flower. 
[amazon_link asins='B074XJHZX7,B01LYB20SI,B01LPGDQDA,B075D21BC2,B005KB7V8I,B01KKNK1RS,B00FM6C2IA,B00BXLT574,B00GU0BSSM' template='ProductCarousel' store='US-1′ marketplace='US' link_id='8ce1a087-f311-11e7-ba04-71c0dee388f8′]
Happy crafting!