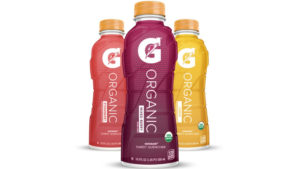 PepsiCo announced launching G Organic this fall, a USDA organic certified version of Gatorade. In few weeks, G Organic can be bought countrywide in select natural and convenience stores and groceries.
G Organic will be available in three flavors: strawberry, mixed berry, and lemon. The retail price for a 16.9-ounce bottle is $1.69, which is 50 cents more than Gatorade Thirst Quencher.
Gatorade is going organic because the market for natural and organic foods among U.S. consumer is rapidly increasing. Brett O'Brien, Gatorade senior vice president, and general manager said that the company came to know through its nutritionists that a number of athletes now prefer organic sports drink to artificial ones.
G Organics only contains 7 ingredients: Water, organic cane sugar, citric acid, organic natural flavor, sea salt, sodium citrate and potassium chloride. If you are a ingredients reader like me, you will notice the first three ingredient is water, sugar, and flavor so what it breaks down to this is a flavored sugar water.
According to Haemi Choi, a sports medicine doctor at Loyola University Medical Center said G Organic is natural but it is not a healthy alternative. According to Choi, organic sugar added into a drink is still sugar and that makes no big difference in the nature of the drink. The sugar present in the drink may be an option for people who perform an hour-long vigorous workout, but not for those who do light jogging.
Lisa Cimperman, a clinical dietitian and spokesperson for Academy of Nutrition and Dietetics said: " sugar is sugar, so no matter if it is organic or not, it is still going to have the same effect on your body". And she said, " I think it is a marketing ploy to apply this organic health halo to this product".
What do you need to know about G Organic?
G Organic is more natural than Gatorade, as it does not contain any of the artificial and chemical ingredients. However, this does not mean G Organic healthy for you. G Organic still loaded with high amount of sugar and should drink by athletes who do vigorous workout. 
How much sugar does G Organic contain?
20 grams of sugar per 12-ounce bottle, about the same amount as in the regular Gatorade. 
Who should be drinking G Organic?
Athletes who do the vigorous workout for over an hour.
Is G Organic healthy?
People drink sports beverages like Gatorade because they think they are getting extra hydration and some sort of athletic support b the t reality is they are drinking sugar water. Which just going to undo all that exercise… Water and juice are the perfect way to hydrate and gain electrolytes for your body.
[amazon_link asins='B01L1AOJMC,B01IR6KA7Q,B01IR6KCE2,B01N7PAEIU' template='ProductCarousel' store='US-1′ marketplace='US' link_id='6ef0b3b3-f324-11e7-88d9-315242a9251e']