Breakfast is the most important meal of the day! However, with a busy schedule, it is hard to get a solid healthy breakfast in our tummy. Recently, I bought a small mason jar and it is the best thing that ever happened to me! Well, for breakfast. It is the perfect jar for yogurt on the go. Today, I made organic mango parfait in my small mason jar and it only needs three ingredients! Convenient, nutritious and easy to make.
Buying one serving size yogurt is costly and if you want to have it every day, it is very expensive. To be a smart shopping, 30oz family size container is the way to go! When I buy family size yogurt, I also have trouble finding the right container to transport into. Some are too short, some are too tall… a small size mason jar is the perfect size to transport yogurt on the go.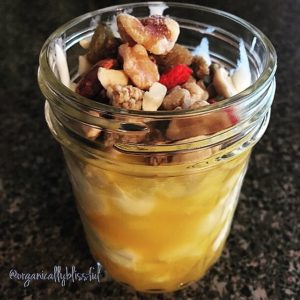 Mango parfait is super easy to make and super tasty. Mango juice will naturally sweeten Greek yogurt and give it a tasty flavor. With the perfect trail mix, you will get a good protein with healthy fat breakfast.
How to chose the right yogurt:
Watch out for ingredients like sugar, artificial flavor, artificial color, stabilizer, and preservatives. Avoid any of these ingredients being listed near the top of the ingredient.
Avoid added sugar. Although yogurt already contains some natural sugar in the form of lactose, food companies often add a large amount of simple sugar to make yogurt taste sweeter.
Low fat vs full fat. If you are looking for low-fat or fat-free yogurt, watch out for sugar level. Reduced fat yogurt typical contain the most sugar, which is added to compensate for the loss of flavor from fat. Full fat contains more calories, however, that does not necessarily make it a less healthy choice.
Look for live cultures!
Go organic! Organic and non-GMO yogurt use milk from cows fed with organic, non-GMO feed and not treated with antibiotics or growth hormones.
Greek, Non- Dairy or regular yogurt?
Greek yogurt is different from traditional yogurt because it is strained more times, remove some of the whey and lactose. This gives Greek yogurt about twice as much protein as traditional yogurt and around half the carbs. However, this means Greek yogurt is also higher in calories and fat and contains less calcium than traditional yogurt.
Non-dairy or dairy-free yogurt uses soy or coconut milk. Because they are plant-based. they are much lower in fat and traditional yogurt and do not contain lactose. However, they do not naturally contain much calcium.
Pour the Greek yogurt into a mason jar

Add the trail mix on the top.