My favorite lunch to bring to work is layered salad bowl. It is super easy to make, healthy and it hits the spot! The best part, you don't need to use an additional container to bring salad dressing!
For me, convenience is important. Unfortunately, I'm also not one of those people who always have leftovers dinner to bring to work or want to spend a lot of time preparing for next day's lunch.
This layer salad bowl is the perfect solution for me. It contains everything I need (nutritionally) from fiber, protein, and fat. The idea is pretty simple: start with filling a dressing into a mason jar or container and then layer various ingredients like leafy greens, veggies, beans on top. You can prep the night before or the day off. You start the layering with dressing first and then layer something that is okay with touching the dressing like tomatoes, cucumber or beans. You should never ever layer leafy greens as the first layer to touch the dressing and should always be on the top layer.
With all ingredients in one jar/container, how long does it stay fresh in the fridge?
The salads can stay fresh up to 5 days, even with more delicate ingredients in it. If you want to make salads that last for 5 days, don't add ingredients that won't last that long.
What's the best jar size and where can I buy them?
You can either buy a large mason jar or a medium size glass container. You can purchase them through almost any grocery store or online store like Amazon.
How long do certain ingredients stay fresh in the fridge?
Here's a list of the most common ingredients for a salad. If you have more ingredients you're not sure about, check out Eat by Date, a very helpful website on shelf life.
Asparagus (fresh or cooked) – lasts for 5 days
Avocado – If you add avocado into the jar make sure to coat it with lime beforehand. Then it lasts for 2 days.
Beans (cooked) – last for 5 days
Bean sprouts – last for 3 days
Feta cheese – last for 7 days
Hard-boiled eggs – You can add them to the salad right away. Peeled hard boiled eggs last for 2 days. A better idea is to add one to the salad just before serving. HHard-boiled-eggs with peel last for 1 week in the fridge.
Lettuce (chopped) – lasts for 4 days
Mozzarella cheese – last for 7 days
Mushrooms (fresh, sliced) – last for 5 days
Pasta (cooked) – lasts for 7 days
Peas (cooked) – last for 5 days
Rice (cooked) – lasts for 5 days
Onion (chopped) – lasts for 7 days
Scallions (chopped) – lasts for 7 days
Spinach (fresh)- lasts for 5 days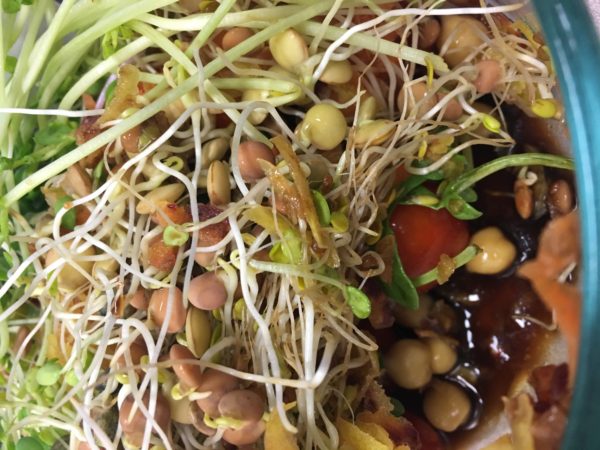 1

Cup

Mixed greens

Organic

1

Cup

Sprouts

Organic

1

Cup

Cherry tomatoes

Organic

1/2

Cup

Beans

Organic, bean of your choice. Chickpea, kidney beans, black beans

1/4

Cup

Corn

Organic, frozen

1/4

Cup

Rainbow carrots

Organic, Shredded

1/4

Cup

Balsamic vinaigrette

1/4

Cup

Green peas

Organic, Frozen

1/2

Whole

Avocado

Organic
1

Cup

Mixed greens

Organic

1

Cup

Sprouts

Organic

1

Cup

Cherry tomatoes

Organic

1/2

Cup

Beans

Organic, bean of your choice. Chickpea, kidney beans, black beans

1/4

Cup

Corn

Organic, frozen

1/4

Cup

Rainbow carrots

Organic, Shredded

1/4

Cup

Balsamic vinaigrette

1/4

Cup

Green peas

Organic, Frozen

1/2

Whole

Avocado

Organic
First, pour your favorite salad dressing into the bowl or jar

add ingredient that can touch the salad dressing like tomato

Add beans, corn and green peas to fulfill spaces

Add leafy greens and sprouts