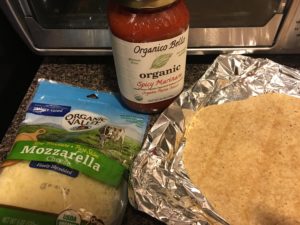 One of my all-time favorite meal to make when I'm feeling lazy is flatbread! It is very simple to cook and easy to prepare. All you really need is three ingredients and only takes about 15 minutes until its ready to eat.
To make flatbread, all you need is a piece of wrap, cheese and a sauce of your choice! If you want something more complicated, you can add your favorite veggies and meat on top. Whatever it is in your fridge will work! If you don't have anything, the just plain cheese will still taste amazing!
Today I made myself a beet and sprout flatbread 🙂
I love working with the beet! Beet tastes sweet when it's baked and will add some sweetness to your dish. Beet is full of purple pigments and will shed the pigment on whatever you are cooking! Yep, it will add beautiful color to your dish.
Beets have many great health benefits. It may help lower blood pressure, boost stamina (source of energy), fight inflammation, contains anti-cancer property, help support mental health, support detoxification and much more. It is rich in folate, manganese, potassium, copper etc. High in fiber and loaded with antioxidant.
Ingredients: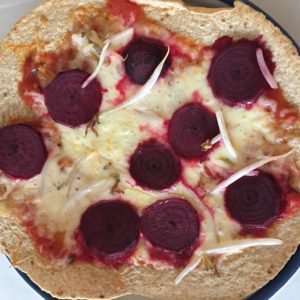 1 Wrap (whole wheat)
1 organic beet
Organic low-fat shredded mozzarella cheese
Organic yellow sprout
Organic spicy marinara sauce
Directions:
Pre-heat the oven to 325 F
On the wrap, spread your marinara sauce around the wrap (leave about an inch from the edge)
Sprinkle the shredded cheese on top of the sauce
Slice the organic beet into thin slices and place on top of the cheese
Sprinkle organic yellow sprout around the beet
Bake in the oven at 325F for 10 minutes
Learn some fun facts of beet.
Want more beet flatbread ideas? Check out the below recipes: