What did you do this 4th of July weekend? I went on a road trip to Niagara Falls and it was breathtaking! And of course, I have to share my experience with my fellow followers?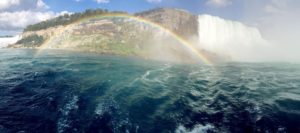 Niagara Falls is the collective name for three waterfalls that straddle the international border between Canada and United States. All the falls can be viewed from both sides of the Country. From biggest to smallest, the three waterfalls are Horseshoe Falls, the American Falls, and the Bridal Veil Falls.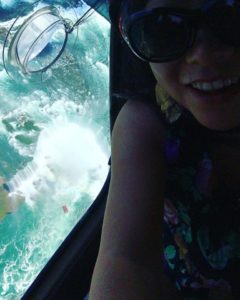 If you are ever interested in checking out Niagara Falls, I highly recommend viewing it from the Canadian side. You may have already heard, the Canadian side has the better view. Yep, it is true. Even though the waterfalls are on the America side, the view is better from the Canadian side because you get frontal views of the waterfalls. If you are interested in going on the Canadian side, do NOT forget your passport and be sure your passport allows you to enter Canada without a visa.
There are a couple of activities you can do at Niagara Falls! If you are interested in spending some money, you can ride helicopter tour to view the falls from the top. The ride is pricey and is about $130 per person. The review from the top is unique and different from anything you may have ever seen before! If you aren't looking to spend too much money, I highly recommend the Maid of Mist boat ride! It is inexpensive (under $20) and a ton of fun! Warning: you will get wet! You can get on the boat from both sides of the Country and the tour is very similar. Just before you get on the boat, you will be given with raincoat and it is highly recommended that you keep it on. The blue raincoat represents the U.S. side and red raincoat represents the Canadian side. If you do decide to ride the boat from the United States side, you will get an opportunity at the end of the boat ride to hike up next to the fall. The hike is a ton of fun but it definitely not an easy hike up. It feels like walking in the pouring rain and everything is super wet. For few seconds, you will question your decision of hiking up but no worry, you are not the only one?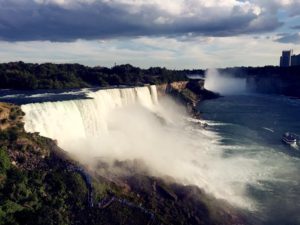 Personally, I would say Maid of Mist boat ride is a must do activity!
The fall is beautiful from the top and the bottom! And the Fall is not only breathtaking during the day, it is magnificent at night as well!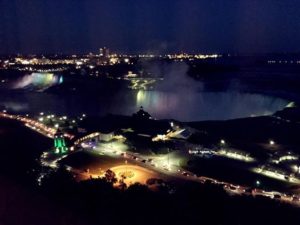 The cast of rainbow light against the waterfalls at night, it is breathtaking! If you are still around at night, take advantage of this different kind of view and beauty.
Please note all imagines are taken by Organicallyblissful and should consult with Organicallyblissful before using any of the images.