Hello, there!
The faces behind the OrganicallyBlissful: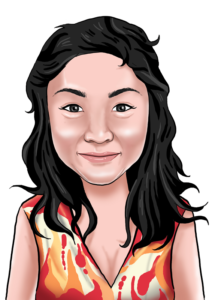 👩🏻‍🍳Hi, I'm Jenny: I am the face behind all the writing, cooking and photo taking.
Zaid is my husband. And he is in charge of the tech support for OrganicallyBlissful. The plus side of having a tech partner is 24/7 tech support! I think that's the reason why I keep him around. shhh…
For the past 6 years, I have been working in the nutraceutical industry during day and blogging by night.
In 2014, I was inspired and supported by Zaid to start blogging about organic and natural lifestyle. Organic, natural, and supporting local lifestyle was introduced to me in 2008 when I was living in beautiful Vermont. Growing up, I ate a lot of fast food and frozen meals, as my parents were always on the go.
Organic and natural lifestyle is important to me because I truly believe it makes a difference to my health and well-being!
When it comes to diet, I am a flexitarian. I am a truly a foodie with an appetite for almost anything and willing to try anything new. In the kitchen, I love cooking vegetarian dishes and a lot of soup! I try to cook things that are practical, healthy and delicious.

👨🏻‍💻Hey, I'm Zaid: I am the face of all the technical work and correcting Jenny's grammar.
When it comes to food, I am also a flexitarian. I eat pretty much what Jenny cooks, as long as there is no cilantro because I have the OR6A2 genes (makes me sound super fancy).
Growing up in Jordan, my food source comes from local farms and are only available by season. After moving to the U.S., I enjoy shopping at the local farmers market and specialty stores to get my organic and fresh produce, fruits, and vegetables. I support and enjoy living an organic and natural lifestyle because it is a good investment to your wellness. One thing you should know about me is I always read the label claim!
 😸 😸Meow! we are Bella and Vita and we are Jenny and Zaid's fur babies. We were adopted by Jenny from the Humane Society in 2013.
We have big contributions to the blog. We supervise and keep Jenny and Zaid company while they work. It is a very important role you know and it is not as easy as it looks.
When it comes to food, we are very picky eaters and we don't like treats. Weird, we know. Like our parents, we love organic and all natural wet and dry food.
Welcome to OrganicallyBlissful
We started this blog called OrganicallyBlissful because we want to share our organic and natural lifestyle journey in the hope it can help you to find a lifestyle that is right for you too.
We believe everyone is responsible for his or her health. What you eat, what you drink, the chemical you place on your skin, the chemicals you use in your house and garden, and the medicinal choices you make combines to create your state of health. And you decide your course of action.
At OrganicallyBlissful we do not claim to be doctors nor dietitians. We do not diagnose or treat disease. We share information. We believe in the balance of mind, body, and spirit. We believe the basis for health is a balanced, nutrient-rich, organic diet and natural living. And while we believe organic and natural a lifestyle can more expensive than conventional lifestyle, health and wellness is a smart long-term investment for you and your family.
Why organic and natural?
When purchasing products, we look for USDA organic certified seals. With USDA certified organic sticker on the product, it means the product has met the federal guideline addressing many factors like a genetically modified organism, soil quality, pest and weed control, additive etc..  Sometimes the package will indicate the product is "made with organic", this means the product contains at least 70% organically produced ingredients.
It may be to your surprise that FDA does not have a definition for using the term natural. However, we as consumers are seeing this word everywhere! If you read the label, which we highly recommend that you do, it may make you question whether the product is natural or not. Organically Blissful believe the definition of natural is our body should be able to recognize what we put in. Meaning, no artificial color, flavor, preservative, or no words we can't pronounce!
Regardless of your beliefs, regardless of ours, choose wisely. This is your body and your life.
If you want to be part of this organic and natural lifestyle journey, be sure to subscribe to our newsletter and stay up to date with what we are up to!
Thanks for stopping by!