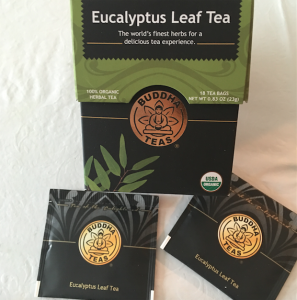 Recently I came across Buddha Teas at a co-workers desk. When I first saw the packaging on her desk, I was fascinated by it. What is in this fancy looking box? It got my curiosity. The box itself is very eye-catching and most importantly, it contained words that I love! USDA organic certified. Buddha Tea also uses bleach-free tea bags and eco-friendly products!
Buddha teas have nothing to do with Buddhism. However, tea does contain an aspect of Buddhism, harmony. Buddha Teas was discovered by John Boyd, who was concerned about the effects of chemicals on our human body and as well as the environment. Just like you and I, who seeks organic and natural lifestyle, John chose ingredients that were grown organically or wild harvest to keep the tea as natural as possible. Luckily, he is willing to share his natural and organic tea with us.
One of my favorite tea to drink at work is the Eucalyptus Leaf Tea. Sounds so fancy right?! Eucalyptus tea is crafted from leaves of the eucalyptus trees, an iconic Australian plant. In this cup of tea, you will find flavonoids, quercetin, tannins and volatile oil. So why do I enjoy drinking this tea at work? Because of its taste and scent. The aroma of this tea gives me the soothing and calming feel that it reminds me of the spa. The tea itself is strong in taste, which I personally really like. If you prefer something lighter, you can steep the tea bag in the water shorter than direction.
Some of other Buddha tea that I love includes turmeric ginger, hibiscus, matcha… can't wait to try more!
Some ways I enjoy serving my tea is to mix it with honey or some fresh mint!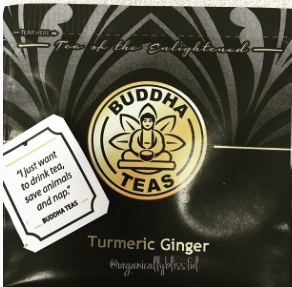 What do I love about Buddha tea? The taste and aroma of high-quality tea. I love its USDA organic certified, bleach-free tea bag and eco-friendly. Buddha tea offers a variety of tea options from herbal to fruit tea. From tea bags to loose tea. You got a lot of options with Buddha tea. One part that makes my day is the quote that is at the end of the tea bag! It brings a smile on my face every time!
One thing I did notice is the Buddha tea's tea bag is very fragile, so be careful when you open the tea bag packaging or else you may accidentally tear the tea bag.
What is your favorite tea? And how do you like to serve your tea?
Please note: I received a free trial of Buddha Tea and was not compensated for this review. The review is written based on my personal experiences with Buddha Tea products.
Buddha Tea On Amazon