I am obsessed with eating dragon fruit. It is delicious, it is beautiful and it is nutritious.  But, I realize not many people know what a drag fruit is, so I decided I'm going to share some info with you.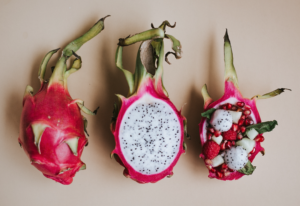 Dragon fruit, or known as pitaya, is a beautiful and exotic looking fruit that has many health benefits! Great for skin, cardiovascular, lower cholesterol, lower blood sugar, help with stomach ailments, and helps in weight management.
Dragon fruits have red or yellow skin with a purple or white inside but always the beginnings of overlaid leaves, similar to an artichoke. If you never had dragon fruit before, the flavor is mildly tangy and sweet and sometimes sour. It also delivers a crunchy texture like eating chia seed or a kiwi.
Can't find fresh dragon fruit? No worries, I got your back.
Fun Facts About Dragon Fruit:
Dragon fruit grows on a cactus that blooms for one night per fruit cycle.

Pollination of the dragon fruit plant is done by nocturnal creatures, like moth and bats.

Rumor has it that in one culture, it was common to re-eat the seed after they pass through the body. Yuck!

Dragon fruit tastes the best when eaten chilled.

Dragon fruit is also known as strawberry pear or pity.

Combination of dragon fruit with cucumber juice and honey, you can create a compound like an ale that can soothe burned skin.

The flower buds are edible.

Dragon fruit is a tropical fruit that is native to Mexico and Central America. The taste is like a combination of a kiwi and a pear.

There are varieties of dragon fruit. The red-colored (inside) ones tend to be sweeter. 
Dragon Fruit Nutrition Fun Facts:
Low calories fruit (53 calories per 100g) and rich in antioxidant.
Dragon fruit seeds contain protein as well as omega 3 and 6 fatty acids.
It is rich in proteins, fiber, lycopene, and carbohydrates.
Eating too much red colored dragon fruit can give you pseudohematuria, which can turn urine reddish. Sorry boys, you didn't get your mensural cycle.
the red-fleshed variety of dragon fruit contains lycopene, the same antioxidant found in tomatoes.
The high level of vitamin C found in dragon fruit helps boost immunity
Iron, present in dragon fruits, is great for boosting the hemoglobin levels in anemic individuals. It also aids in the production of red blood cells (RBCs), which then helps in proper oxygenation of vital organs.
Antioxidant-rich dragon fruits help in detoxification by flushing out the waste metals and toxins from the body.
Dragon fruits have a significantly high-fiber content, which means that they can help bulk up bowel movement. It can even help eliminate constipation and IBS issues.
Regular consumption of dragon fruit is linked to a reduction in the blood sugar levels, which is great for people suffering from type 2 diabetes.
Dragon fruit has antifungal and antibacterial properties.
Dragon fruit contains no unhealthy saturated fats. This leads to higher levels of HDL or good cholesterol and lower levels of LDL or bad cholesterol in the body.
Eating dragon fruit helps in keeping the hair nourished and healthy.
The high- calcium content in dragon fruit keeps your bones healthy and improves the bone-mineral density.
Dragon fruit is very beneficial for pregnant women as it is rich in iron, B vitamins, and folate.
How To Choose And Store Dragon Fruit?
Dragon fruit can be found year-round, though the season peaks in summer and lasts into early autumn.
How to choose a dragon fruit
To choose a ripe dragon fruit, look for bright, even-colored skin. A few blemishes on the skin are usual, but if the fruit has a lot of flaws, it may be over-ripe. Hold the dragon fruit in your palm, and try pressing the skin with your thumb or fingers. It should give a little, but shouldn't be too soft or mushy. If it's very firm, it will need to ripen for a few days.
Storing Dragon Fruit
Please don't cut your dragon fruit until you're ready to eat it. Once it's cut, it needs to be refrigerated in a tightly sealed container. This fruit can pick up the flavors and odors of other food, so the protection is necessary. It can remain fresh for a day, possibly a little longer, depending on how ripe it is. Once the flesh begins to turn brown and get mushy, it's time to toss it.
Ripe dragon fruit can sit on the counter for a few days. To store it longer, place the fruit in a sealed container and store it in the refrigerator.
How to Slice a Dragon Fruit
You can slice the dragon fruit in half like any other melon. You can then slice the flesh like a watermelon. Or if you have a melon baller, you can scoop it out into little fun balls.
How To Enjoy Your Fresh Dragon Fruit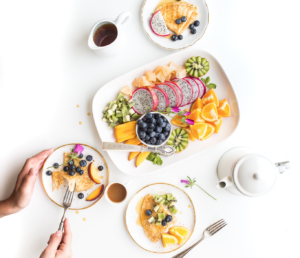 You can enjoy eating it as is or make something with it. Dragon fruits are a wonderful addition to a fresh fruit salad, fruit salsa, smoothie, juice or a smoothie bowl with a tropical Thai twist.
Dragon Fruit Food Pairing:
Dragon fruit pairs perfectly with fish dishes, particularly cod, tuna, and mahi-mahi.