You can certainly have too many cooks in the kitchen, but you can't have too many cooking supplies. Finding the perfect present for every foodie on your nice list can be tough. Whether you're gifting a chocoholic, oenophile, or passionate gourmand, there's a food gift out there that are perfectly tailored to their unique palate. From creative kitchen tools to a gourmet gift basket, options abound and its hard to decide what to stuff stockings with when the holiday is around the corner. To help you out, I've rounded up the one of a kind gift that's perfect for the healthy foodies in your life.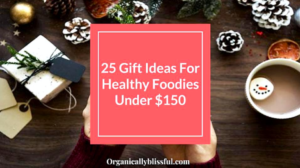 1.Frontier Gourmet Spice Set
Share finest spices on the planet with your foodie friends! Especially non-GMO, non-irradiated, and non-ETO ones.
2.  Kombucha Starter Kit
The perfect gift for that hipster friend 😉
3. Eco-friendly and Natural Coconut Bowl
Everyone can use an eco-friendly coconut bowl and there is no such thing as too many bowls!
Made of pure coconut shells hand crafted and sealed with coconut oil, after they have been extracted from their meat and water. 
4. Cold Brew Coffee Maker 
" />
Effortlessly make a delicious cold brew! The perfect gift for coffee lovers.
5. Matcha Starter Kit ????
The Matcha tea ceremonial gift set is exactly what's needed to start drinking a unique beverage with natural antioxidants and matcha tea energetics. Perfect for tea or matcha lover. 
6. Organic Flavored Balsamic Condiments, Pear, Raspberry, Fig and Pomegranate
Perfezionare
7. Inspirational Spoon
Word of wisdom to your special foodie friend.
8. Cooking Utensil Set "Recipes of Love"
It is made from 100% natural bamboo and coated with 100% Natural vegetable oil to enhance durability. 
9. Got Salt Block?
Taking cooking to the next level with a pure Himalayan salt block.
10. Coffee Grinder 
Perfect gift for "but… first coffee" friends or coffee snobs.
11. Garlic Zoom
This mighty gadget is the perfect gift for your garlic lover friends. It allows you to mince garlic to your desired texture without dirtying cutting boards or knives with sticky garlic juice. No more smelly fingers. 
12. Herb Stripper
" />
Everyone can use herb stripper! Strips kale, collard greens, chard, and herb leaves from stems in seconds
13. Splits, Pits and Slices Avocados ???? 
Everyone's favorite superfood deserves to look good. Gift this avocado accessory, which flicks out the fruit's seed and slices it into clean, uniform pieces, to your most avo-obsessed friend this season.
14. Got Juice?
Why buy juice when you can make it at home? Perfect gift for your friends who loves juicing.
15. Wireless Electric Tea Kettle
Whether it's hot chocolate, coffee, or tea, an electric kettle cuts down on the time between you and your steaming beverage. A wireless kettle is ideal for both safety and a flawless kitchen aesthetic.
16. Pineapple Tumbler/ Mug ????
Did you know that pineapples are an international symbol of hospitality? So there's no better gift for a supportive friend or kind neighbor than a pineapple tumbler.
17. Herb Scissors
Cutting herbs just got easier thanks to this little gadget!
18. Grow Your Own Vegetable???? ???? ???? 
Exotic Vegetables Growing Kit – 5 Unique Plants to Grow From Seed: Purple carrots, blue corn, yellow cucumber, rainbow chard, and broccoli. 
19. Healthy Salad Dressing
Conventional dressings cause weight gain and spiked blood sugar, ingredients turn into genetically modified mutated oils full of trans fats & sugar. These dressings are made with avocado oil, 100% refined sugar & trans fat-free.
20. Hot Sauce Gift Set ???? 
Hot sauce gift set is perfect for friends who love spicy food! 
21. Healthy Snack Box
Not sure what to get? Why not throw together a healthy snack box for them! If you don't have time, you can order an assortment box from Amazon.
22. A Gift With Humor???? ????
A funny gift for a foodie, cooking enthusiast, vegetarian, or chef.
23. Foodie Wood Box Sign
Everyone can use a foodie wood box sign.
24. Foodie Board Game
The board game classic with a twist.
25. Exotic Salt Samplers
Taking cooking to the next level with exotic salt from around the World.
Disclaimer: Please note that some of the links above are affiliate links and I will earn a commission if you purchase through those links. This helps support the blog and allows me to continue to make free content. I only recommend products based on my own user experience. Thank you for your support!