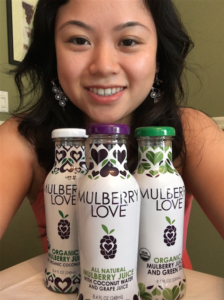 Growing up in China, I remember my grandmother used to bring me wild mulberries that she picked to eat. I use to think they were funny looking: long, purple and a little fluffy like a caterpillar! Purple caterpillar.
Recently I came across mulberry juice and I can't keep my hands off of it! It reminds me of childhood, back to when grandmother used to bring me fresh, wild mulberries 🙂 I felt the mulberry love from Mulberry Love company.
So, What Is Mulberry?
Mulberries are berries obtained from the silkworm trees. Mulberries come in different colors: black, purple, red, white, etc.. White mulberry is native to Eastern and central China. Red and American mulberry is native to the Eastern United States. And black mulberry is native to western Asia.
What Are The Health Benefits Of Mulberries?
Mulberries are low in calories and are composed of health-promoting photo-nutrient compounds like polyphenol pigment antioxidant, minerals, and vitamins that are essential for optimum health.
Mulberries contain a significantly high amount of phenolic flavonoid phytochemical called anthocyanin. Studies have shown that consumption of berries has health effect against cancer, neurological disease, inflammation, diabetes and bacterial infection.
Berries contain resveratrol, a powerful antioxidant that directly affects the functioning of certain mechanism in blood vessels, primarily relaxes the blood vessels and reduce chances of blood clot formation and subsequent heart issues like strokes or heart attacks.
Mulberries contain zeaxanthin and studies have shown it can reduce oxidation stress on certain ocular cells, making it great for vision health.
Mulberries contain high levels of vitamin C! Making it a powerful defense weapon against illness or foreign pathogens and great for the immune system.
Like other fruits and vegetables, mulberries contain dietary fibers that help improve digestive health by speeding up move through the digestive tract.
What is Mulberry Love?
Mulberry Love is a super fruit drink with the combination of mulberry juice and coconut water. Makin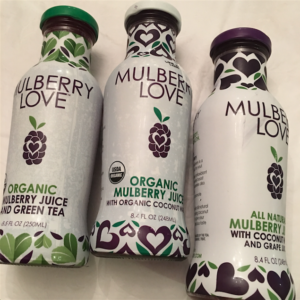 g it a delicious, healthy and refreshing beverage. Mulberry Love has no added sugar and it is sweet naturally! How sweet is that!
Mulberry love is organic certified and it is all natural!
Benefits That Mulberry Love Includes:
BOOSTS IMMUNITY
ENHANCES MEMORY
REDUCES INFLAMMATION
VITAL FOR VISION
HEART HEALTHY
ENERGIZING
SKIN SUPPORTING
The Story Behind Mulberry Love…
Mulberry Love was founded by Dianne Burnett, who is very passionate about helping, inspiring and healing others. On her journey of holistic living, she discovered Mulberry Love. The integrity of this brand is very important to Dianne and that includes everyone and everything that involved in bringing Mulberry Love. The mulberries in Mulberry Love comes from Turkey. Yes! How exotic! The type of mulberry that's being used is black mulberry that comes from the beautiful province of Izmir.
Ways I Enjoy Mulberry Love:
Add little chia seed and make your own Mulberry chia drink!
Blend it with your plain yogurt or kefir!
Blend it with balsamic vignette and make your own salad dressing!
Blend it into your smoothie!
Freeze it and make your own popsicle!
Please note: I was not compensated for this article/review. Reviews are written based on my personal experiences and preference.