Frozen banana sushi bites to stay cool this summer! Easy to make, healthy, and satisfying all at the same time!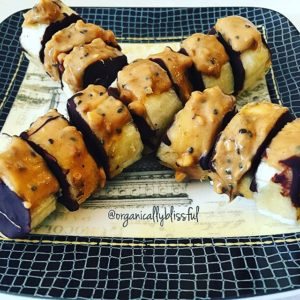 Summer treats don't have to be fattening or make us feel guilty while eating it. And it certainly doesn't need to be loaded with added sugar. Most ice cream and popsicle is loaded with cream, butter and added sugar. Not mentioning, if you are eating dairy ice cream, the quality milk it is made from… For healthy foodies, we often pick up fruit popsicle as our alternative ice cream options. However, these fruit popsicle is loaded with added sugar! We proceed this option as "healthy" choice because they contain "real fruit" and the calories are much lower than ice cream. However, they are not actually all "healthy" for your body.  Next time you pick up a fruit popsicle, be sure to read the label and learn what you are really eating.
This summer, I am keeping myself satisfied with a homemade treat that is loaded with fiber, good fat, and protein! Guilt-free and while keeping you cool this summer 🙂 I know there is no dairy, added sugar nor butter used in my treat.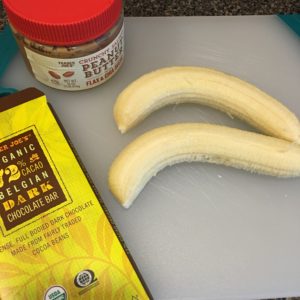 Ingredients:
Nut butter of your choice ( I used crunchy peanut butter that contains flaxseed and chia seeds)
chocolate of your choice ( I used organic dark chocolate)
2 Whole organic banana
Directions:
slice the banana into about 1-2 inches thick. The thicker, the easier it is to use later on.
Microwaves your chocolate in a small bowl (about 2-3 minutes)
Use a fork and fork the banana's surface
Holding the fork and smear your nut butter on the top surface of the sliced banana
Then use another knife and smear chocolate on each side of the banana
Once it's done, remove the banana from the fork and place it on a plate
Once you are done with filling the plate, place it in the freezer for about an hour or longer. Once it's fully frozen, it is ready to be served!
[amazon_link asins='B001RPT6O8,B003LJAFY8,B00AXFGCAY,B00H2AAXMQ,B00JMGJG8A,B009JZRM1M,B01D8Y3YES' template='ProductCarousel' store='US-1′ marketplace='US' link_id='90510d2a-f330-11e7-96e8-25d473280400′]