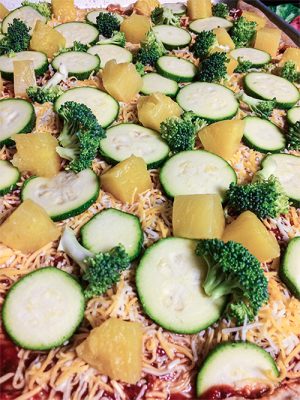 Are you a pizza lover? I admit, I sure do love pizza! As a pizza lover, I love making pizza from scratch. And today I'm going to share with you how to make my favorite vegetarian Hawaiian pizza scratch.
I love making pizza from scratch because you know exactly what is going into your pizza and it is budget friendly. You can customize it however you like and just the way you like it. It will be way cheaper than your go to pizza restaurant and it will taste way better than your typical take out place. Plus if you are looking for a fun activity to do with your friends and family then this is it! I love making pizza from scratch with them because you are spending quality time by making something together and it is delicious. 
To me, knowing exactly what goes into my pizza is important. I want to eat fresh and clean ingredient pizza. I don't want to eat something that contains hidden MSG, artificial ingredients, or even flavoring. Yuck. But unfortunately, if you are eating out or ordering take out, you don't actually know what goes into your pizza. And I am talking that secrete sauce they put on it or where does cheese comes from. I mean, do you really know what is really in your pizza that is not being listed on the menu?
Homemade pizza is safe and delicious. Today, I made a Hawaiian version of veggie pizza! Unlike your standard Hawaiian pizza that contains ham, I opted out on the ham and in with the veggies. And if you never had pineapple on a pizza before then you are in for a treat. The pineapple chunks will give you a burst of sweet juicy flavor and it gives you a different texture. 
Now, making pizza from scratch isn't as hard as you think. Sure, it does require some time, but this is something you can feel good about eating. 
Vegetarian Hawaiian Veggies Pizza From Scratch
Prep Time: 40 Minutes

Cook Time: 15 Minutes
Serving Size: 8
Ingredients
Directions:
Dough
In a large bowl, mix all ingredients together either using a mixer or by hand. Then cover the bowl with either a damp towel or paper towel. Let it sit for at least 30 minutes.
Sauce
If you have a Vitamix, I recommend blending all ingredients together and then heat it on the stove for extra flavor. Or in a sauce pan, cook all ingredients together.
Pizza
Place a alittle bit of flour on a cleaned counter or the space you have chosen to roll out the dough. This will make sure the rolled out dough doesn't get stick to the surface.
Rub some flour on your roller to ensure the dough does not get stick to the roller as well.
Place some extra flour in the baking pan you are planning on baking the finished pizza in because this will make sure the pizza does not get stuck to the pan.
Roll out the dough with roller to a desirable shape that will fit your baking pan. If the dough is too sticky, you can place extra flour.
Place it into your baking pan once it is stretched.
Poke some holes with a fork to prevent dough from bubbling during baking. No pattern. If your dough have small rip, don't worry, that will help preventing the dough bubbling and you can still poke additional holes if needed.
Brush the dough with olive oil.
Place a layer of sauce.
Place cheese and topping.
Bake it at 425 degrees for 13-15 mins. This will depends on how thick your dough is.
Shop The Post