Healthy and delicious homemade whole wheat veggie lasagna recipe that will satisfy everyone. When I say homemade, I mean everything from scratch. Yes, this means the whole wheat lasagna noodles and the sauce are all from scratch! And don't worry, this recipe is super easy to make and it's fun. I love making it with friends and family. It is a great bonding activity to do with others.
This whole wheat veggie lasagna recipe is packed with carrots, mushroom, celery, zucchini, eggplant, bell pepper, and jalapeno pepper. But feel free to swap or add vegetables that you love!
Whole Wheat Lasagna Noodle
Whole wheat may not sound as exciting for some people because of the taste and texture. However, whole wheat is much higher in fiber, vitamins B6 and E, magnesium, zinc, folic acid, and chromium. A study has shown whole-grain intake is associated with a reduced risk of coronary heart disease, cardiovascular disease, and total cancer, and mortality from all causes, respiratory diseases, infectious diseases, diabetes, and all non-cardiovascular, non-cancer causes. I hope that is enough information to convince them to give this recipe a try.
Making whole wheat lasagna noodles is very simple to make. All you need is whole wheat flour, eggs, salt, and pepper (optional). And you will need a pasta maker to roll it into sheets. A pasta maker is super affordable or you can get attachments to your Kitchen Aid.
How long to cook whole wheat lasagna noodles?
The trick is you don't want to cook your noodles all the way because you will cook it more in the oven after it's assembled. I typically cook it for about 30 seconds and then put it in a cold water bowl so it stops cooking.
What what does whole wheat lasagna noodle taste like?
If you follow my recipe then you are in for a treat. It offers great texture and taste. The noodle will taste like more like an egg noodle, or a wet "crepe".
Typically whole wheat lasagna noodle has a nutty flavor and tender-firm chew and a grainy texture.
How to make homemade pasta sauce
Making homemade pasta sauce is super simple and easy. Our goal is to cook everything down and then put it in a blender. When it comes to cooking everything down, you want to cook as long as possible so everything breaks down and makes our sauce more flavorful. If you are looking for a sauce consistency, I recommend using a blender and blend everything together at the end. If you are looking for a slight texture, then you can use the sauce as is. If you do blend, you will get the maximum flavor.
Whole Wheat Veggie Lasagna Recipe
Prep Time 30 Minutes

Cook Time 75 Minute
Serving Size 8 People
Ingredients
Sauce
5 Whole Tomatoes Large
1 Stick Carrot Large (Chop into small pieces)
1 Whole Eggplant Medium (Thinly sliced or use a mandoline)
2 Whole Zucchini (Thinly sliced or use a mandoline)
2 Cup Water Or You can use some form of stock
1 Container Mushroom (~250g Container. Finely chopped)
2 Whole Jalapeño Finely chopped (optional)
1 Whole Onion Finely chopped
5 Cloves garlic Finely chopped
1 Tablespoon Himalayan Salt
5 Pieces Sage
1 Teaspoon Black pepper
Whole Wheat Lasagna Noodle
2 Cups Whole wheat flour
4 Eggs
1 Tablespoon Himalayan Salt
1 Tablespoon olive oil
1 Teaspoon Black pepper
Lasagna
Sauce
Whole wheat pasta noodle 1/3 cooked
3 Cup Shredded cheese I typically use a mix of parmesan, mozzarella, and some ricotta.
Instruction
Whole Wheat Lasagna Noodle
It would be best if you started with your whole wheat lasagna noodle first before anything. In a mixing bowl, mix all ingredients. Knead until dough is smooth and elastic. Let it sit in a bowl with a moist paper towel or a towel on top for at least 30 minutes. The longer, the better. While you are waiting for your noodles, you should start on your sauce. See #1 below under "Sauce."
Once you are ready, divide the dough into quarters. Flat-it out and then roll it out through a pasta maker. I like my noodle thin, so I usually go down to a setting 2 or 3. Depends on how long your noodle comes out to be, you should cut it less than 12 inches each piece, so it is easy to cook.
To cook the noodle, bring a 10-quart pot of well-salted (at least 1 Tbs. salt) water to a boil over high heat. Put a large bowl of ice water near the pot of boiling water. Put 3 or 4 noodles in the boiling water. Once the water returns to a boil, cook for about 30 seconds. With a large wire skimmer, carefully transfer them to the ice water to stop the cooking. Repeat with the remaining noodles.
Sauce
While you are waiting for your dough to be ready, start chopping and dicing all your vegetables into small pieces. In a cooking pot, cook everything together except for zucchini and eggplant. We will bake these in the oven at 325 for about 20-30 minutes. Let your sauce to cook at least 30 minutes. The longer the better.
Once you are close to ready to roll out your pasta, remove the sauce from the stove. Let it cool down and put it in a blender (this is optional). Once you blended your sauce, you can now roll out your lasagna dough (See #2 under "Whole Wheat Lasagna Noodle").
Assemble
1. To assemble, layer your 1/3 cooked noodle first in an 8.9-inch X 13.2-inch or bigger pan. Then layer your sauce, but don't pour too much because we will use additional later. Then layer your baked zucchini and eggplant. Then layer your shredded cheese. On top of your cheese, pour more sauce, but don't overdo it. Repeat this until you run out, and the top layer should be pasta, sauce, and then cheese with cheese being on the top layer. You should be able to stack about 4-5 layers.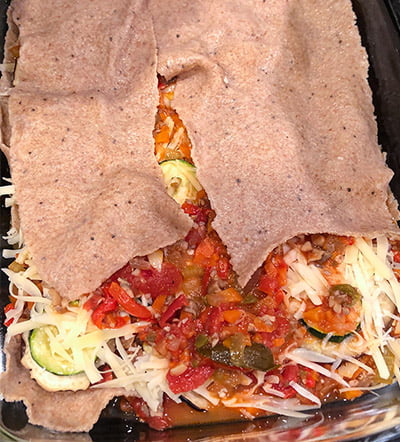 2. Once you are complete, cover the pan with foil and put it in the oven. Bake at 400 degrees for about 30 minutes, and then remove the foil during the last 10-15 minutes of baking to help the cheese melt or brown. Let stand for at least 15 minutes so that the individual pieces hold together. Cut into eight slices and serve. Tip. If you think your dish may overflow when baking, put a tray on the bottom pan.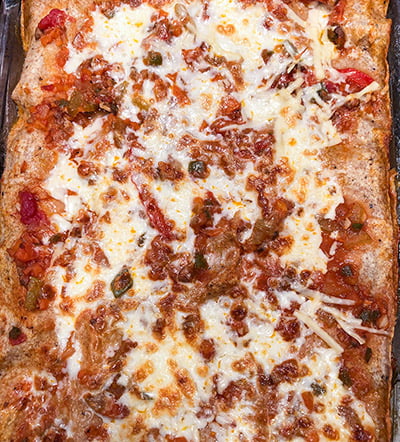 Pasta Essentials